Holyford was built by Jan's great grandparents in the 1920's.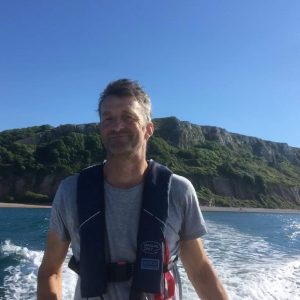 Jan's inspiration for smallholding came from many hours spent as a child in Devon, often in the company of his grandmother Angela, from whom he learned to fish, grow vegetables and identify different mushrooms. Later on Jan spent twelve years working with young people with a wide range of challenging behaviours or who were in Care. He made use of his interest in survival skills, watersports and music in this role. He is also a professional baroque musician, playing large bass stringed instruments and has recorded and toured both in the UK and further afield. He has 3 older sons, Ben, Mark and Finn who all love watersports and music.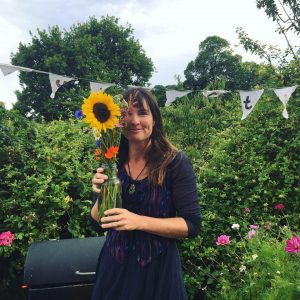 Caroline studied Ecology at Edinburgh University to fulfill her desire to understand more about nature. She then spent time living in Borneo on a coral reef conservation project, travelled New Zealand working on organic farms and lived on a solar-powered narrow boat in Oxford, working on a sustainable communities project. She has helped set up organic vegetable gardens in the local area at Park Farm (aka River Cottage HQ) and Trill Farm and is a trained Forest School leader.
We met at the Magdalen project (www.themagdalenproject.org.uk) where Jan was leading bushcraft sessions for children and running the vegetable garden. Caroline came to volunteer for a week and ended up staying! There we ran a successful vegetable box scheme for the local community and educational sessions and ran activities in the garden for visiting school groups. Jan had always wanted to set up a small growing project on his own land and Caroline (on her travels around the world) dreamed of running her own eco-campsite. 'Homemade Holidays' is where we have arrived!
Leo is 10 and if you would like a guide to show you around Holyford and the woods he's your man! He will probably try and sell you something from the farmers market stall he and Hazel are setting up, building on the success of their 'lockdown stall' on the lane.
Leo loves swimming in the pond, playing lego, reading and feeding the many garden birds at Holyford 🙂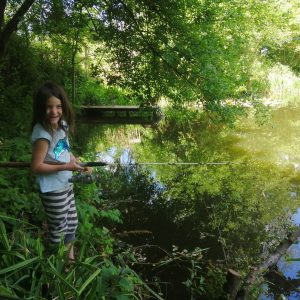 Hazel is 7 and is always doing acrobatics or singing (often both at the same time!. She loves climbing to the top of the magnolia tree and spotting the sea, swinging on the ropes course and bouncing on the trampoline (we have 2)
She loves drinking the froth when we juice our apples, eating our homemade Holyford fruit frozen smoothies and finding slow worms.
We like to encourage solutions for living that have less of an impact on the environment and enjoy finding good uses for 'unwanted' items. We have sourced reclaimed and re-used materials wherever possible in developing homemade holidays. We think Holyford is a great place for families to relax and spend quality time together whilst enjoying the simple pleasures of life.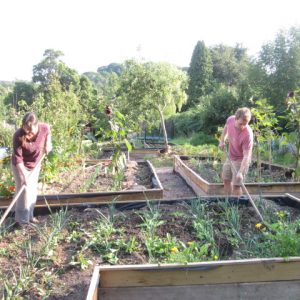 We love growing fruit and vegetables, we use raised beds near the house and terraces in the field, plus a polytunnel and a fruit cage. We are very happy to sell surplus produce when available and can have a vegetable box prepared for your arrival.
We are leaving as many wild spaces as we can at Holyford to create the maximum number of habitats for wildlife as possible. We think this is really important as currently many native species are being threatened with extinction. We are now managing the 10 acre field between Holyford and Holyford woods for natural regeneration.